LiBTec, Boucherville QC, a new industrial research and development (R&D) group launched by the National Research Council of Canada (NRC), is looking to advance the lithium-ion battery value chain in Canada by working with industrial partners to accelerate the development and testing of key materials and components in partnership with its leading researchers in the field.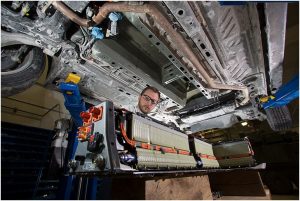 Today, lithium-ion batteries are in most everything we touch, including cars and buses, smart phones and electronics, and the modern electricity grids that power communities with renewable energy. By 2025, the world market for lithium-ion batteries is expected to represent nearly $145 billion USD. This rapidly growing market depends on a reliable supply of value-added products and components derived from raw materials such as graphite, graphene, lithium, cobalt and nickel. These materials are currently mined around the world. Canada has a natural supply of these specialty materials, as well as a critical mass in the supply chain, especially as North American manufacturers look to stabilize and increase local production. In the Canadian Shield and Labrador Trough geological regions, Canada has the largest reserves of flake graphite in North America, one of the largest in the world.
NRC's facilities include state-of-the-art equipment for battery development, characterization, benchmarking and prototyping.
Access to commercial markets for Canadian material suppliers depends on strong technology development and commercialization, and third-party evaluation and testing services. LiBTec is able to serve these needs in a collaborative and cost-effective manner. "LiBTec enables the development of the next generation of battery materials and helps producers and processors to benchmark those materials against the best in the world," says François Cordeau, Vice-President of Engineering at the NRC. This effort will improve the performance and lifecycle of lithium-ion anodes and cathodes, and position Canada as a major player in energy storage for transportation and stationary applications."
"The whole value chain will be represented within this innovative group," adds Charles-Antoine Gauthier, an NRC expert. "We invite battery users, suppliers and manufacturers, as well as producers and suppliers of graphite, lithium and other battery materials, to join us in developing a world-leading Canadian lithium-ion supply chain."