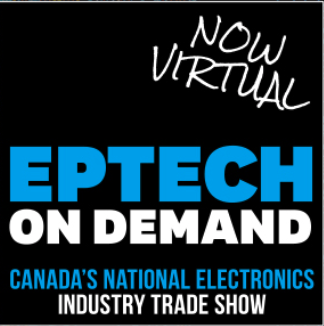 Virtual Event
EPTECH on Demand
September 15, 2021 at 1:00pm EDT
KEYNOTE ADDRESS: Tony Chahine, CEO of Myant Inc.
Enabling Human Participation in the Future & Revolutionizing Healthcare
Fascinated by the potential for Textile Computing to act as an interface to the human operating system, Tony began his search in 2010 for the infrastructure needed to produce solutions at scale. Today, Toronto-based Myant has become the world's first end-to-end Textile Computing company and its mission is to empower humanity using IoT-enabled textiles.
Myant knits sensors and actuators into everyday textiles, giving them the ability to sense and react to the human body. This continuous bidirectional interface to the human operating system will empower humanity to transform its capabilities and performance, help people proactively manage health and deliver treatment, and allow us to build better connections to our own selves and those around us.
Myant developed the Skiin platform, which allows people to have continuous connection at all times by integrating other wearables. A good example of that is the firm's South Saint Marie (SSM) deployment program, in which it is working with the Canadian government to enable better health outcomes for vulnerable populations. Tony's keynote will touch on all of this, while also participating in a 10-minute Q&A session at the conclusion.
EPTECH ON DEMAND CONCEPT
For over 30 years – Eptech has showcased the latest electronics products and services to the EP&T audience of electronics engineers and designers, in major markets nationwide.  In 2021 we are taking the show online…with EPTECH on Demand.
Eptech on Demand will take the best of the live shows – meeting with exhibitors, suppliers and industry experts, and combine that with the best online events have to offer, unique speaker sessions, live and on demand presentations and educational sessions, product demonstrations…to help attendees source solutions and gain new insights, knowledge and innovation in the fast moving electronics field.
We get you are busy.  And nobody wants to spend a day in front of a computer – so we've developed EPTECH on Demand to take place as a series of 3 hour sessions, EXTRAVAGANZA DAYS, over 4 days.
Each EXTRAVAGANZA DAY will feature two streams that are popular at EPTECH Live events. Each stream will feature special discussions and presentations on those specific topics.
WHO IS ATTENDING
Electronic engineers, designers
OEMs, R&D, MRO
CEMs / EMS service providers
Purchasers / buyers
Manufacturers' representatives, distributors, brokers
Project managers, consultants
Component manufacturers
GREAT CONTENT
At the core of every event is the content. Virtual EPTECH will continue to provide top-notch sessions, led by industry experts, to help attendees stay on trend and grow their business.
And you can still drop in on exhibitors "booths" and chat about your project and find solutions, partners or new suppliers.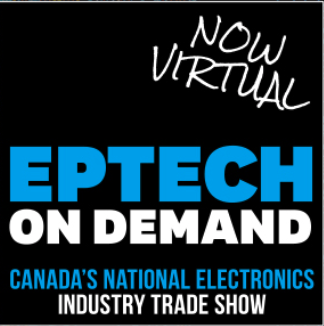 Register Now
Frequently Asked Questions About EPTECH on Demand
When & Where?
EPTECH on Demand will take place virtually via GoToWebinar on September 15, 2021 at 1:00pm EDT.

There will be a 15 minute break between live sessions.
Why Virtual?
The safety and wellbeing of our employees, customers, and community is our number one priority. By making this event an online experience, it eliminates the need for attendees and sponsors to travel in-person, while enabling them to still benefit from the event content.
What's Included?
Your registration provides you with access to watch the virtual keynote, all live sessions, and on-demand recorded content and product demonstrations.
How do I access?
We will email you an access link to the virtual event the morning of September 15, 2021.
If you don't see an access link in your email inbox, please check your junk folder. If you are still unable to locate the email, contact
Tara Jacobs
.