Event
Verifying C-V2X infrastructure: Webinar
Print this page
---
June 20, 2023

Webinar: Verifying C-V2X infrastructure and communications for safer roads
Hosted by Rohde & Schwarz
Overview
Title: Safer roads by verifying critical road infrastructure and C-V2X communication (Asia / Europe)
Time: Duration: 45 minutes
ummary
For several years, vehicle manufacturers and government agencies have sought ways to increase road safety, manage traffic efficiently and, in the future, make driving more comfortable, convenient and safe. Vehicle-to-everything (V2X) is a new generation of information and communication technology that connects vehicles to everything and can support these objectives. V2X is designed to offer low-latency vehicle-to-vehicle (V2V), vehicle-to-roadside infrastructure (V2I) and vehicle-to-pedestrian (V2P) communications to add a new dimension to future driver assistance systems.
Cellular V2X (C-V2X) is defined as the communications standard by 3GPP in Release 14 and uses LTE technology as the physical interface for communications.
The LTE C-V2X Scanner provides customers an opportunity to verify, test, and optimize ITS traffic systems by traditional measurements regarding RF signal power and quality such as RSRP, RS-CINR and RSSI, as well as decoded ITS message content for all three regions (North America, EU, China).
In this webinar, you will learn how to/ more about:
How C-V2X communication works
What is "everything" in "vehicle-to-everything (V2X)"
Verification of roadside units as critical traffic infrastructure
In-field measurements and verification of C-V2X
Speakers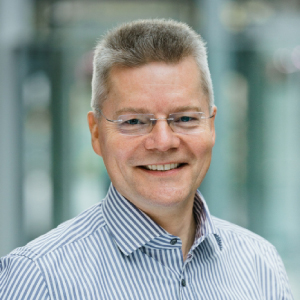 Arnd Sibila
Technology Marketing Manager
Rohde & Schwarz
Arnd Sibila joined Rohde & Schwarz in 2012 as Technology Marketing Manager for Wireless Technologies and then led the Infrastructure Global Key Account Manager group. Since 2016 he focused on Technology Marketing for the Mobile Network Testing market segment. Previously, Arnd gained 21 years of experience at Siemens Communications and Nokia Siemens Networks where he held various technical and management positions in the field of Wireless Communication Systems and Mobile Networks Product Lifecycle (Product Management, System Architecture, CTO, Business Development, Portfolio Management and Product Qualification) covering nearly all wireless technologies.

Manuel Mielke
Product Manager
Rohde & Schwarz
Manuel Mielke discovered his passion for radio receivers while sitting in a Vodafone drive test van for several months, running network scans with scanners from Rohde & Schwarz. This was during his studies at the University of Applied Sciences in Regensburg, Germany. Today – an electrical engineering degree with a major in wireless communication and a stint at antenna specialist Kathrein later – Manuel finds himself "driving" the R&S scanners: as Product Manager Drive Test Scanners, he defines and shapes their specifications to help customers quickly and efficiently introduce new radio network technologies and features.
Visit event's website
https://event.on24.com/eventRegistration/EventLobbyServlet?target=reg20.jsp&eventid=4220349&sessionid=1&key=72126D95177E285C492F88E036027B05&groupId=4730169&partnerref=mid_17102_na_m4c_wbnr-safer-roads&sourcepage=register
---
Print this page