Designing wearable devices that can withstand industrial IoT (IIoT) applications is an ongoing challenge for IoT solutions providers. Few wearable technologies and sensors are suitable for industrial working environments where hazardous conditions, such as extreme temperatures and pressure, make current wearables useless. It's a challenge that Vandrico wants to overcome.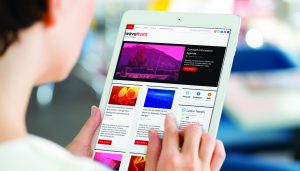 Vandrico is in the business of developing enterprise software that makes data a sixth sense. The firm does this by gathering data through wearables and IIoT sensors and translating it into personalized, actionable insights for improved safety and productivity. Currently headquartered at Wavefront's accelerator in Vancouver, the company is building an ecosystem that is propelling the creation of wearables and IIoT solutions.
Wavefront program has been very effective
Working together with Wavefront, Vandrico has been able to use the mentorship and international exposure only offered through this accelerator to propel their 'Connected Worker' software platform for use in industrial applications. "We are proud to have helped Vandrico, who participated in our Global Market Entry Program to Silicon Valley last year, where we facilitated introductions to several global market operators and large eco-system players," says Alan Swain, VP technology & operations, Wavefront. "This particular Wavefront program has been very effective and, in fact, we have taken over 170 companies into 35 different countries."
Vandrico's Connected Worker is a very flexible platform that allows businesses to deploy wearables to their employees, from mining companies, utilities, manufacturers or any industrial enterprise. This software platform is currently being tested in underground mines to increase safety while driving down operating costs.
Significant opportunity for industrial wearable device OEMs
"Our ongoing challenge is to find industrial grade sensors and wearable devices that are the highest possible quality and can interface with our open software platform," says Paola Telfer, chief commercial officer at Vandrico. "In our search, we have created a wearables database that currently tallies 39 industrial devices. Of these, only a handful are suitable for our industrial clients' working environments creating a significant opportunity for industrial wearable device manufacturers who want to leverage the IoT and are looking for applications."
The international wearables design community refers to Vandrico's online database as the current "industry bible" for finding high quality wearable sensors and devices. Vandrico wants to inspire the creation of more industrial wearables and establish a new industrial ecosystem according to Telfer.
How do you get on Vandrico's wearables list? By creating a high quality device or sensor that is:
* Wearable – Device must be worn on the body throughout its use; it should not be carried.
* Controllable – Device must be controllable by the user; this could be done either actively or passively.
* Enhancing – Device must augment knowledge, facilitate learning or enhance experience.
For industrial IoT applications, it should also be able to withstand large high temperature and pressure changes as well as being waterproof and durable. It is also critical that the battery life for a device survive an entire shift for an industrial worker.
Engineers and hardware designers can seize upon the IIoT opportunity by interfacing with Vandrico's open communications platform. The Connected Worker works best with Android devices but uses open source standards, making it interoperable with most hardware and easy to integrate with other best-in-class enterprise software (such as SCADA and ERPs).
Vandrico's relationship with Wavefront has enabled the company to use best business practices to develop and fine tune their product roadmap for use by an international base of clients. "We've made so much progress," states Telfer, "and we are excited about bringing systems together to make better sense of data being gathered, and offer actionable information to front line decision makers."
"We are looking to collaborate with hardware manufacturers," says Telfer "to accelerate the Industrial IoT revolution, making the future for enterprises smarter, safer and more connected."
The impact of IIoT wearables in Canada's mining
Being a Canadian company, Vandrico is working closely with the mining sector to leverage their Connected Worker platform. Not only is mining one of Canada's most important economic sectors, it is also a major job creator. Knowing this, Vandrico is testing its platform in several mining operations enabling them to receive data in near real-time, making mines more efficient and safe.
It is now possible for mining operations management to obtain a 3D visualization of people, sensors and equipment from data gathered in the field and displayed in Vandrico's Connected Worker dashboard. Front line operations managers and field workers are empowered to close the gaps between planned and actual operations in underground or open pit mines.
Vandrico's Connected Worker platform is helping miners identify and respond to potentially dangerous issues. Miners are now given gas level warnings based on their proximity to triggered sensors – saving lives. Proximity alerts also protect miners from large moving vehicles when a field worker is in the vicinity of a large vehicle on the move, preventing serious accidents. Mine workers can use a one-touch distress call feature to send an urgent notice to the surface. The surface system is designed to send immediate alerts to key personnel and emergency responders based on the type of incident being reported – reducing response time and risks to other workers. All of this is accomplished using a mine-specific IoT across a Wi-Fi network using data from wearable devices and sensors placed throughout the mine.
——————————————-
What critical functionality is essential when designing durable IIoT wearables and sensors?
* Stand-alone wireless connectivity (SIM and/or WiFi enabled) which doesn't rely on tethering via Bluetooth to a smartphone
* An interface to communicate medium-fidelity information.
* A method for the user to respond, which can be operated in all industrial environments (e.g. robust tactile buttons or rotary switches).
* Means to attract the user's attention in loud industrial environments (using a combination of vibrators, speakers and/or lights).
* The device operating system must be flexible and completely open to customization.
* The device or sensor must be sufficiently durable and waterproof (IP67 standards).