Five questions to consider when scaling from prototype to product launch
By Gordon Styles, CTO and founder of Star Rapid
Electronics
Engineering
prototype
prototype
scaling
scaling
Addressing the challenge for designers and manufacturers to find the best manufacturing process for high-volume production
Prototypes are crucial in the project lifecycle journey. However, moving from prototype to new product introduction is not as easy as putting in a larger order that utilizes the same production process that was used to make the prototype. It can often be a challenge for designers and manufacturers to find the best manufacturing process for high-volume production that is cost-effective and fast. As such, product developers need to be conscious of the factors that will impact product design when moving from prototype to production. Having this foresight will mitigate any engineering or design issues.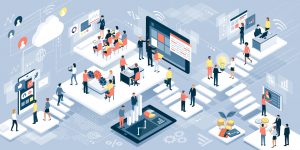 Below are some important questions to consider that will allow a product to move from prototype to new product introduction and through the product lifecycle with ease.
What process should be used?
In manufacturing, metal 3D printing and vacuum casting are ideal for making prototypes. However, both processes are time-intensive. Just because a process was used to make a prototype of a product doesn't mean it will be the best process for higher volume production. Product designers and engineers must be prepared to make design changes to a product as it moves out of the prototyping phase.
When it comes to making prototypes using vacuum casting, plastic injection molding (PIM) is ideal for higher volumes of the part or product. There are many critical differences between the two processes. For instance, PIM requires the creation of a tool from aluminum or steel. This makes the process less suited for prototyping, while still being one of the most cost-effective options once production sizes increase. Vacuum casting and PIM also adhere to different sets of design rules that impact ribs and bosses, the use of gussets, wall thicknesses, draft angles, gate positions, runners, ejector pins and more. Therefore, product developers should ensure their plans account for the additional cost and time-to-market that a transition from one process to another will involve. A similar example applies to metal 3D printing. While metal 3D printing has seen some improvements in speed, the process still hasn't reached volume capacity to make it effective enough to utilize at this stage. Therefore, designers should consider CNC machining or die-casting for low-volume production.
From the onset of a project, it's important to consider what process will be used for prototyping and production. Creating a design that accounts for the production nuances of at least two processes will minimize the time needed to get a product to the customer.
Will the end results differ?
The short answer is yes; parts and products will vary slightly if they are made using two different manufacturing processes. Differences can be both cosmetic and mechanical, as each process has various criteria that the product designer must consider when designing the model for manufacturing. These specifications also affect the quality of the product or part. Take die casted parts for example. When using this process, developers need to consider porosity, and this may limit the part's strength or affect the surface finish. On the other hand, with a CNC-machined part, developers don't have to contend with porosity as the part or product is made from the same raw material. With a keen understanding of how the final prototype or part will differ based on the manufacturing process used, developers will be able to accurately calculate costs, lead times and engineering and testing protocols for the finished part.
What material is ideal?
Material choice is an important consideration to make in product lifecycle management. The prototyping stage is the simplest for material consideration as – by its nature – a prototype can be made of almost any viable material on the shop floor. However, when ramping up from prototype to new product introduction, it is best to avoid expensive, rare or challenging materials, as this can make production quite tedious. As survival in the new product introduction phase is so critical to commercial success, it's imperative that materials used at this stage are readily available at a surplus in the sector. Otherwise, material unavailability can lead to supply chain interruption and delay go-to-market strategies. Common plastics such as Polyethylene terephthalate, Polyethylene or Polypropylene and metals such as aluminum and stainless steel should be considered.
Are finishing processes needed?
Often, developers perfect the prototype in the finishing process by sanding, polishing and hand painting it, as the prototype needs to look its best whether it is being used for wooing investors or even garnering interest in a crowdfunding campaign. However, these finishing processes may not be viable at a large scale. Detailed finishing can be time-consuming during low-volume manufacturing and is not quite practical as the product scales commercially. Unless the product is a luxury item targeting high-end customers, this level of detail is not sustainable in the long-term. Therefore, product developers need to find simple processes that work well for finishing the product. In doing so, developers can look to automated processes. For instance, if the product requires engravings or a special company seal, this can be automated in the production cycle. Another solution is to minimize the number of finishes required for the product. Rather than utilizing multiple processes that can take time at the end of the manufacturing cycle, pick one or two finishing processes that will save both time and money.
Can the components in the build be reduced?
Manual labor in the manufacturing process can be quite tedious and time-consuming. As such, it is best for developers to limit the number of individual components needed in volume production. The less components required for the product means less time spent assembling. This significantly reduces the risk of warping or running into out-of-tolerance specifications and potential variation from one production batch to another. For low-volume production, it is best to streamline the manufacturing specifications and variables of the product as much as possible to ensure high-quality and consistency.
The entire product lifecycle journey should be efficient, consistent and automated in order to expedite go-to-market strategies. As processes are streamlined, designs can be simplified, and costs can be minimized. When designers and engineers consider these five key questions in product lifecycle management, they can easily move through each phase in the process and expedite products to the end customer.