Enclosures are critical to any outdoor or indoor equipment installation exposed to the elements and harsh industrial environments. The applications can range from WLAN equipment installations for IT infrastructure to hydraulic or pneumatic controls for industrial automation. A great deal of consideration is necessarily put into a facility's various equipment installs and their respective interconnects. This is due to the fact that any seemingly inconsequential environmental factors such as small transient surges or even consistent exposure to the sun's rays will chip away at the integrity of these equipment installations ultimately causing failures not to mention intentional or unintentional tampering. The process of troubleshooting and repairing /replacing equipment leads to plant or data center downtime — a costly repercussion that has, in the past, put companies out of business. Similar to how jacketing material is often the most prominent factor to consider for interconnect exposed to harsh environments, an enclosure to protect equipment is paramount to the continued operational lifetime of critical apparatus.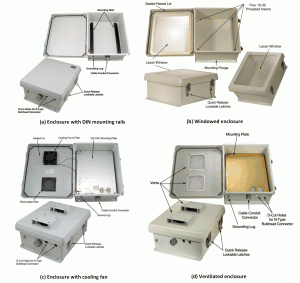 NEMA ratings
The materials and construction of a National Electrical Manufacturers Association (NEMA) rated enclosure can vary to better suit particular applications. All of these enclosures are rated to protect personnel against access to hazardous parts and to also provide protection to the equipment inside the enclosure against solid foreign objects such as dirt [1]. There are labels for additional levels of protection as shown in Figure 1.
Table 1 (below) shows the various ratings for non-hazardous locations. It should be noted that hazardous locations involve a level of combustibility where the enclosure must be able to either contain an explosion, or prevent combustion around highly ignitable oil or dust.
Enclosure options
While all NEMA enclosures must meet the requirements of its particular rating, the construction of these components can vary. For instance, a NEMA-rated enclosure can either be powered or unpowered where the powered variants will include a weather-proof cable conduit to connect to power and may include opaque or windowed lids that allow visual inspection of installed equipment without the need to open the enclosure. Powered variants may also include thermostat controlled heaters or fans or both to aid in maintaining ideal operational temperatures for the installed equipment. This also prolongs the life of the internal equipment. Unpowered versions are available in completely unmodified forms as well as models with blank mounting plates, they are also available in vented models as well. Other enclosure options may include DIN mounting rails to easily install circuit breakers or industrial control equipment.
Typical enclosure properties
NEMA-rated enclosures are necessarily gasketed to prevent ingress of minor leaks and falling dust. In particular our FRP (Fiberglass Reinforced Polyester) enclosures have several additional features to aid in this. They include mushroom head covers along with the gasketing to provide extra protection against moisture and dust while the ribbed cover corners increase the strength of the enclosure. It is preferred that mounting be as straightforward as possible to mitigate the cost and time of installation, therefore having mounting flanges already as a part of the enclosure mold simplifies the process for rapid deployment of a system. An assortment of our Pole Mounting kits are able to be attached to this integrated mounting flange to allow a robust means for securing the enclosures onto a variety of different diameter poles. Aluminum mounting plates are often used on the interior of enclosures as aluminum is a light-weight material that is corrosion resistant and relatively easy to work with and drill into. It also operates with a high thermal conductivity so an aluminum mounting plate would readily conduct heat off of sensitive electrical equipment and provide a wider surface area to radiate that heat away. Grounding lugs are often necessary on enclosures as the power/data lines they are connected with often function as a path for transient surges. These surges can chip away at the integrity of the electrical equipment, eventually causing catastrophic damage. Grounding lugs allow for the surges to be redirected to ground thus protecting the internal circuitry.
Enclosure materials
The materials for the enclosure can vary from metals such as stainless steel and aluminum to thermoplastics such as acrylonitrile butadiene styrene (ABS) or fiberglass reinforced polyester (FRP). Metals have the inherent benefit of shielding from electromagnetic interference (EMI), this is especially relevant in medical device and telecommunications/RF equipment. And, as emission and immunity requirements of radio systems in licensed or unlicensed spectrum spaces becomes tighter, shielding is increasingly important. Plastics such as ABS and FRP have the benefit of cost-effectiveness and light weight as compared to metals. ABS in particular does not need the welding equipment that metals need or the extra labor that FRP requires. All of these materials have high resistance to corrosion, UV resistance and fire retardant properties when various paints, laminates, coating, or plating materials are utilized. FRP is formed as a polymer matrix reinforced with glass fibers so has a very high load bearing strength and is most resistant to deforming when the deforming force is parallel to the polymer fibers. On the other hand, FRP is weakest when at pressure points perpendicular to the fibers, causing this material to often have less impact strength than other materials.
The FRP material generates a very high thermal resistance by trapped air within the blocks of glass fiber. This property is particularly useful in humid and swampy conditions where the enclosure can inherently resist heat flow into the box. Metals, however, can more readily conduct this heat, which can be a pro or con depending on the environment. For this reason, many stainless steel or aluminum NEMA-rated enclosures will have ventilation or a cooling fan.
NEMA/IEC
NEMA, (National Electrical Manufacturers Association) and the IEC (International Electrotechnical Commission) are two standards groups, which have devised two different rating systems for enclosures, which define the enclosures resistance to dust, moisture, water immersion and ice. The IEC's rating is referred to as the IP or Ingress Protection rating. The table below outlines NEMA and IEC IP enclosure ratings. This chart only works in one direction from NEMA to IEC. An IP rating only considers protection against ingress of solid foreign objects and ingress of water.
Conclusion
NEMA-rated enclosures are leveraged in myriad industries to protect equipment from harsh outdoor and indoor environmental conditions or tampering. These enclosures can be composed of several materials designed to protect against moisture or UV. There are numerous organizations such as the International Electrotechnical Commission (IEC) or Canadian Standards Association (CSA) that have standards that overlap with NEMA. Additional conformance tests such as flammability tests can also be necessary depending upon the location and environment in which an enclosure will be employed. All enclosures must therefore be taken on a case-by-case basis where application-specific requirements are taken into account.