Print this page
---
June 07, 2023
4331 Dominion St, Burnaby, BC V5G 1C7
Hosted at Delta Hotels by Marriott Burnaby Conference Centre
Show Hours: 10:00 A.M. to 4:00 P.M.
Free Registration & Free Parking
KEYNOTE ADDRESS @ 10:30 a.m.
Location: Venezia Room
Re-shoring Semiconductor Manufacturing in Canada – Can we Do it?
At the heart of any modern digital economy, technology has been identified as a global and national strategic importance. Therefore, re-shoring semiconductor manufacturing in Canada should be viewed as essential in defense of the North America electronics landscape moving forward. This has a strategic geopolitical importance (China vs Taiwan), and it is also a key element for cyber security.
Western countries are making massive investments to re-shore semiconductor manufacturing activities and build a resilient supply chain in North America and in Europe. Of late, two major funding efforts have been deployed :
The Chip and Science American Act
The European Chip Act
Under these two initiatives reside an astonishing investment effort made by several major semiconductor players to build new a production plant or expand their current facilities.
There is no doubt that in the coming years, the overall installed capacity will quadruple in North America, offering major market opportunities for everyone in the electronics ecosystem across Canada.
Insights into this future endeavour will be provided to those attending this session.
Keynote Speaker
Normand Bourbonnais
President, CEO at Technum Quebec – Bromont Innovation Zone for Digital Technologies (located in Bromont, Quebec).
Normand Bourbonnais has been working in the field of microelectronics for more than 35 years. He has held various management positions in production, quality control, engineering and product development before piloting an avant-garde project, namely the establishment of the largest microelectronics research center in Canada: the MiQro Innovation Collaborative Center (C2MI).
A vital link between pure research and the needs of industry, the C2MI environment lays the foundations for research and product development for all market segments. A unique model, C2MI offers an infinite number of collaboration and business opportunities related to all areas surrounding the manufacture of embedded systems.
In February of 2022, C2MI unveiled the Technum Quebec Innovation Zone, a design hub that puts focus on digital technologies, from design to commercialization, through prototyping, certification, intellectual property, and low-volume production, reach their full potential to support all Quebec industries.
What is Eptech?
EPTECH is the only series of coast-to-coast national electronics shows in Canada, located in high-technology areas nation-wide.
The series is operated by EP&T Magazine, Canada's information leader for electronics engineers and designers.
2023 stops include: Winnipeg, Toronto, Vancouver, Montreal, Calgary and Mississauga.
EPTECH showcases innovative products including but not limited to: test and measurement, wearables, engineering, interconnectivity, production materials, enclosures, contract-manufacturing services, pcb & pcba, robotics and prototyping.
EPTECH is an opportunity for a broad-range of exhibitors to network with electronic project needs.
EPTECH travels across Canada, so finding a show near you is easy.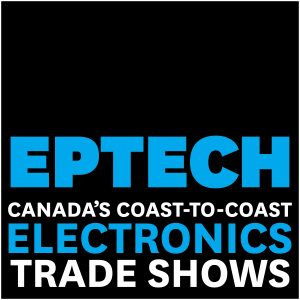 Visit event's website
https://www.eptech.ca/location/vancouver/
---
Print this page