Canadians will need to increasingly turn to technology to adapt to the impacts of climate change, according to climate experts and corporate leaders.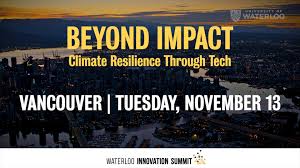 As part of its commitment to apply innovative solutions to some of the world's most significant challenges, the University of Waterloo is partnering with Microsoft Canada and SAP Canada to host its Beyond Impact Innovation Summit in Vancouver. Speakers at the Summit discussed how the country's top technology researchers and businesses can work together to help Canadians adapt to physical, financial and social damage that events such as widespread forest fires and flooding are having on Canadians.
"The world's leading scientists have warned us about the impacts of a changing climate on our environment, our cities and our lives for decades and it is clear those impacts are now happening," says Feridun Hamdullahpur, president and vice-chancellor at Waterloo. "Technology is going to play a central role in empowering Canadians to adapt and respond to climate change, and Canada's tech leaders will have a significant role to play in protecting health, lives and property."
The Waterloo Innovation Summit, held this week in Vancouver, saw speakers from Microsoft's AI for Earth initiative, representatives from Waterloo's Sustainable Development Solutions Network (SDSN) as well as climate change researchers and policy makers.
It is critically important that we work together to find climate solutions
"People working in the clean tech sector are using their talents and ingenuity to address the impacts of climate change," said Bruce Ralston, the minister of Jobs, Trade and Technology for the Government of British Columbia. "It is critically important that we work together to find climate solutions. This summit provides a forum for tech leaders to collaborate on innovative ways to address global warming that will benefit people, businesses and the planet."
Microsoft's AI for Earth initiative is designed to put the company's cloud computing and artificial intelligence tools into the hands of people working on global environmental challenges. Waterloo is the host institution for the newly created SDSN, which as a mandate to work with academic, government and industry partners across the country to share knowledge and research to help Canada meet the sustainable development goals laid out by the United Nations.
"It is our mission to empower every person and every organization to achieve more," said Edoardo De Martin, general manager of Microsoft Vancouver. "Technology is transforming our ability to understand, explore and address environmental challenges, while supporting the growth of global collaboration."
Summit attendees will include Canadian business, government and academic leaders who will engage with speakers on the latest technology and research that can aid in adaptation and discuss how different sectors can work together to address common challenges presented by climate change.
"As a global enterprise software company, SAP has the unique position to be both an exemplar of sustainable business practices and with our technology, an enabler for other businesses to advance theirs," said Kirsten Sutton, vice president and managing director of SAP Labs Canada. "We're looking forward to welcoming the Waterloo Innovation Summit to Vancouver and this important conversation on Canada's opportunity to be a climate change leader."