The aerospace sector was one of the earliest and most significant adopters of CFRP material. Driven by their superior strength and stiffness-to-weight ratio, composites can be over 50% of the structural parts in the latest models for narrow and wide-body civil aircraft. However, this dominance is under threat with emerging metal alloys and additive manufacturing some of the key contenders.  
Composites have not exhausted their innovations; many processes are re-inventing this class of material and advancing not just the mechanical properties in the process. This article will highlight some of those key advancements including lighter composites, multifunctional composites, and emerging opportunities. A previous article highlighted some of the key strategic approaches to additive manufacturing for this sector.
IDTechEx has extensively covered the Composites, Lightweight Metals and 3D Printing fields and has now launched a report on Additive Manufacturing and Lightweight Materials for Aerospace and Defense 2018-2028.
This report looks at the key emerging lightweight technologies crucial for the aerospace and defense sector, this includes over 40 interview based-company profiles with some of the most significant players changing this field.
The lighter the better:
There are many progressions to improving the lightweight performance of a composite part, this includes next-generation prepreg material and the rise of high-performance thermoplastics. These are all extensively explored in the new report, but two notable advancements are discussed below. 
Thin ply composites from spread-tow fibers are gaining increasing attention. This involves spreading the fibers for a reduced density (typically below 75gsm) and a stronger homogeneous fiber-matrix interaction. The early market for these are motorsport and sporting goods, but aerospace is the significant next-step. This material is already being used by HAECO for interior seating on their A350 aircraft and has been explored in advanced stages for structural roles in UAVs. Comprehensive profiles of both Oxeon, with their TeXtreme range, and North Thin Ply Composites can be seen alongside this report.
At a much earlier stage is the use of pure boron fibers for polymer reinforement. This is different to the monofilaments previously explored and it is proposed that this fiber can replace carbon fiber in much the same way that carbon fiber has replaced aluminium in the very long term. The fibers are synthesised via a laser chemical vapour deposition route and led by companies such as Free Form Fibers. There are many technical and economic hurdles but certainly one to watch.
Multifunctionality is crucial:
Multi-material and multifunctionality are the two biggest terms in structural componentry. The ability to add functionality to a composite part is significant for the performance, added-value and lightweighting.
The key areas are indicated in the image below with many competitive processes to each one. The routes are challenging and often take advantage of new materials, such as graphene and CNTs in nanocomposites, or advanced manufacturing processes. They are at differing stages of reaching commercialisation, this is reflected in the image below. The drivers for adoption, technology approaches, and academic to commercial players are all discussed in the report.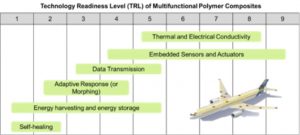 Opportunities where you may not expect:
The polymer composite evolution is not just limited to the roles we have come to expect. There are many examples of this including:
* Natural bast fibers for aerospace trolleys, see a previous article examining the biocomposite industry.
* Braided material for fan cases, vanes, and pipes becoming ever more prevalent.
* Recycled material which is driven predominantly by life-cycle assessments and the need for improved waste management.
* Hybrid parts to optimise the use of high-performance materials.
Finally, it is important to note the role of enhanced automation, extending into 3D Printing of composites, can play in expanding their uptake. Automation is a key facilitator to give the material greater design freedom and cost efficiency.