Tech conference to deliver in AI, robotics & Innovation
EP&T Magazine
Electronics
Engineering
innovation
innovation
tech
tech
Change Leadership Conference in Toronto this May will feature keynotes and panel sessions looking to induce attendees toward leading actionable change
Canada's leading change leadership conference and network event has announced its agenda for this year's event, which highlights a provocative offering of thought-provoking keynotes, case study sessions and engaging panel discussions.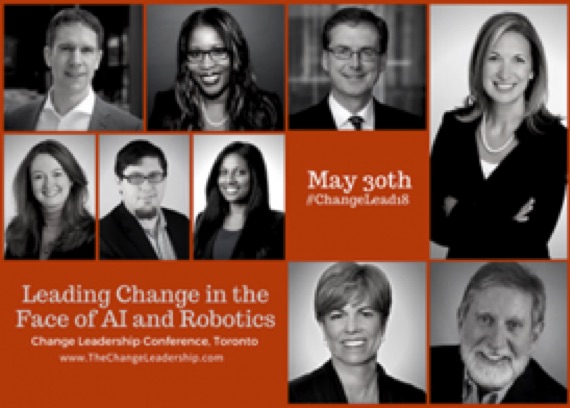 The Change Leadership Conference is a one-day conference will be held on Wednesday May 30, 2018, at the MaRS Discovery District in Toronto, from 8:30am to 5:00pm EST.
When asked about the significance of this year's conference and expected disruptive changes as a result of AI and Robotics, the Change Leadership team made the following observations:
"Disruption is not new. What is different this time around is first and foremost the speed at which change is happening. And unlike others, this change is occurring simultaneously in all regions of the globe, greatly aided by the presence of the Internet… This 4th Industrial Revolution is marked by emerging technologies such as artificial intelligence, robotics, block chain and more, which are already permeating the fabric of our everyday lives. The revolution is taking place now, and organizations need to be prepared to more effectively lead change in the face of this new era."
According to this year's host Yvonne Ruke Akpoveta, AI (Artificial Intelligence) is about to disrupt the way people currently live and work. AI is one of the world's fastest growing industries, and it is going to create an enormous shift across every industry on globally; no industry is expected to be untouched.
"It's something we have to prepare for," says Akpoveta. "And that's what this year's Change Leadership Conference is all about. Preparation will be imperative for the very survival of every business. We are going to provide participants with the knowledge, tools, information and the tactics that every person responsible for leading change in their organization can leverage to get and stay ahead to become the leader who can effect the necessary changes within their organization."
The conference will feature a number of speakers that include renowned AI innovation and leadership experts:
Michelle Holland, Toronto's Chief Advocate for the Innovation Economy
Tomi Poutanen, Co-Founder of the Vector Institute & Chief AI Officer, TD Bank
Claudette McGowan, CIO, Enterprise Technology Employee Experience, BMO
Prof. Tiff Macklem,Dean – Rotman School of Management
Dr. Nick Horney, Ph.D, Leadership Agility Expert, Author & VUCA Master
Dr. Laura Copeland, Director of Medical Innovation & Transformation, Humber River Hospital
Daniel Marquez,National Strategy Leader for AI, Accenture
Mara Nickerson,Chief Knowledge Officer, Osler, Hoskin & Harcourt LLP
Carole Piovesan, Litigator and AI Lead, McCarthy Tétrault
Niluka Kottegoda,VP Merchandising Innovation & Development, Sobeys Inc
Yvonne Ruke Akpoveta, Host, Change Strategist & Advocate, OliveBlue Inc.
Additional speakers and panelists will be announced soon.